Views
Total Download: 0/77
Theme Features
Broadcast Details:
Broadcast is perfect for anyone looking for a clean magazine style for their website. Giving you lots of options to create your website the way you want it to look.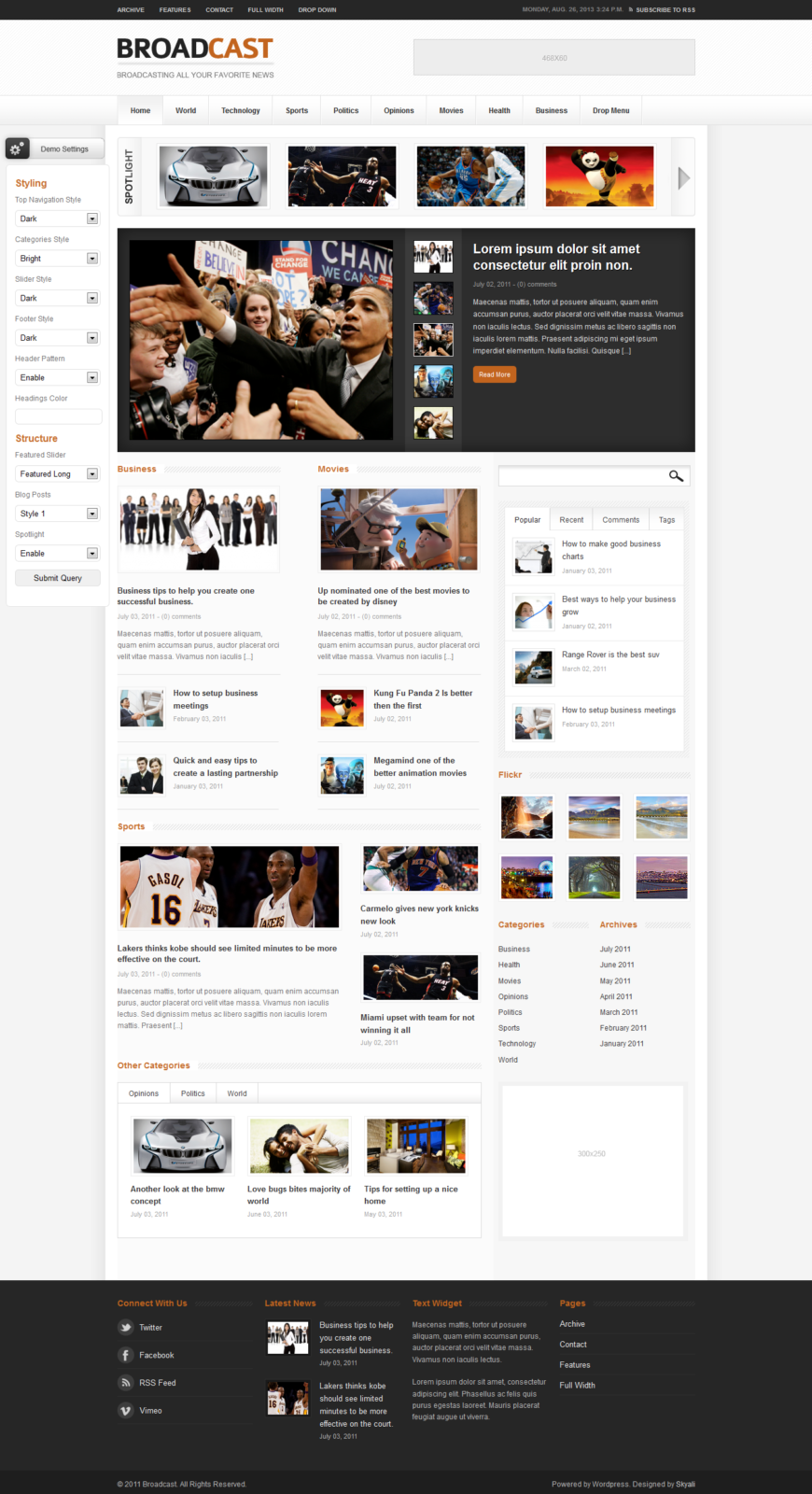 Quick Features
Embed Videos In Slider
2 Custom Sliders
2 Slider Styles (Dark, Bright)
Color Picker for headings
Custom Options Panel (Easy To Use)
2 Navigation Styles (Bright, Dark)
2 Footer Styles (Dark, Bright)
2 Top Navigation Styles (Dark, Bright)
Enable/Disable Pattern In Header
Enable/Disable Footer
Enable/Disable Featured Slider
Enable/Disable Top Navigation
WordPress 3.0 Menu's
2 Listing Styles (Categories & Traditional Blog Style)
Other Categories Home Page Widget (Tabs for other categories)
Custom Slider (jCarousel Slider Labeled Spotlight)
Prettyphoto Lightbox (On Post page displays videos & images)
Auto image resizer (timthumb)
3 Custom Page Templates

Archive Page Template
Full Width Page Template
Contact Page Template (Validation Form Included)

8 Custom Widgets

Recent News Widget
Video Embed Widget
Flickr Widget
300×250 Ad Widget
125×125 Ad Widget
Sidebar Tabs Widget
Social Icons Widget
Popular News Widget
Update 1.2 – 12/19/2012
Fixed Category Organizer
Fixed jquery bugs with WordPress 3.5 update.
Update 1.1
New admin panel
New option you can now arrange your categories in the order you'd like them to display.
Need Help?
All support requests are handled threw my email. If you need support use the form on my user page to get in contact with me. Support questions are typically answered before 24 hours except on weekends it may vary.
Global Theme Update
All theme's have been updated regarding the "cheating uh'?" This will no longer be a problem. Please re-download your theme and re-upload to your website. Thanks.