Views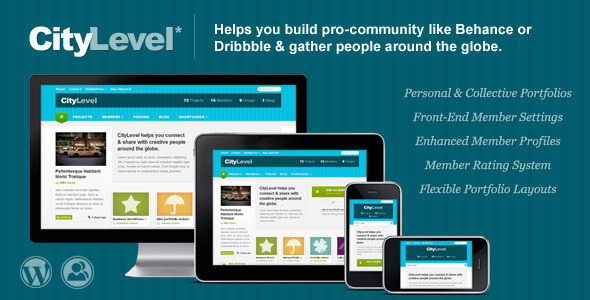 Total Download: 1/114
Theme Features
CityLevel Details:
CityLevel — BuddyPress & Portfolio Based Community
CityLevel helps you build pro-community like Behance or Dribbble & gather people around the globe.
This Theme Price Is Only $55 USD
Enhanced Member Profiles
Members are able to fill profile using formatted text, images, video, audio etc. Visual editor is available for a better result in both types: Visual & HTML .

Front-End Member Settings
Each member is able to fill and edit his profile as well as make a settings from the Front-End. So it makes an usage of a website very simple for users.

Personal & Collective Portfolios
Each member is able to create a personal portfolio so collective portfolio will be composed from the projects of all members. It's similar to Behance.

Member Rating System
Star rating system lets member to rate the projects while posting comments. These ratings are combined into a member rating.

Flexible Personal Portfolios
Members may get various layouts for personal portfolio using Front-End settings: change template, number of rows, height of thumbnails.

Flexible Collective Portfolio
The collective portfolio templates are easily customized with the settings in the theme admin panel. As result you are able to get a various layouts.

CityLevel — BuddyPress & Portfolio Based Community
Support
UPD : December 20th 2010
Support for all my themes is available only on my support forum. ThemeForest message boards are not searchable so I have chosen to use own forum for support. Most questions are repeated many times and searchable forum will allow you don't wait for my response because solution to the issue is already there.
How to get an access to support forum?
Please send a request through my ThemeForest profile page: http://themeforest.net/user/PandaThemes. After I verify a purchase I will reply to your email with a username and password.