Views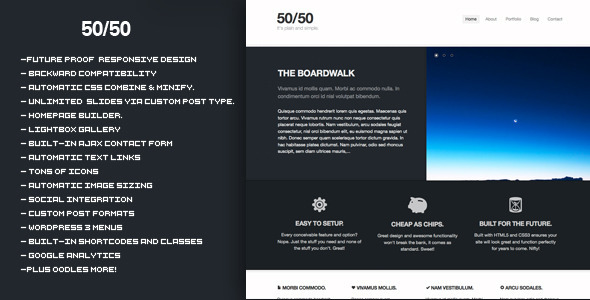 Total Download: 0/22
Theme Features
FiftyFifty Details:
Say Hello to FiftyFifty!
FiftyFifty is a super-awesome Premium WordPress Theme with oodles of features.
FiftyFifty comes packed with an easy-to-use un-branded Options Panel and great documentation.
FiftyFifty is perfect for business!
Features Include:
Future proof HTML5 / CSS 3 Responsive design.
Reactive Header.
Backward compatibility for older browsers.
Automatic CSS combine & minify.
Slider via Custom Post Type.
Portfolio via Custom Post Type.
Filterable Portfolio.
Custom 404 with random posts.
Lightbox gallery.
Built-in ajax contact form.
Automatic text links.
Tons of Icons.
Automatic image sizing.
Social Integration.
Custom Post Formats.
Lots of built-in shortcodes and classes for easy styling.
Google analytics.
plus tons more!
Workless
FiftyFifty is built around my popular CSS framework Workless. This means not only do you get all the usual WordPress goodies, you also inherit all the classes and helpers from Workless!
This will make your life much easier and get your site running as fast as possible.
Checkout the full Workless site & docs: workless.ikreativ.com
NOTE : Don't forget, if you like the theme, rate it via your downloads!