Views
Total Download: 184/213
Theme Features
King Size Details:
Current version is 1.0.2. If you have any issues with logo upload or contact widget, or if you are on GoDaddy hosting and have 'Internal Server Error' please redownload files from your dashboard.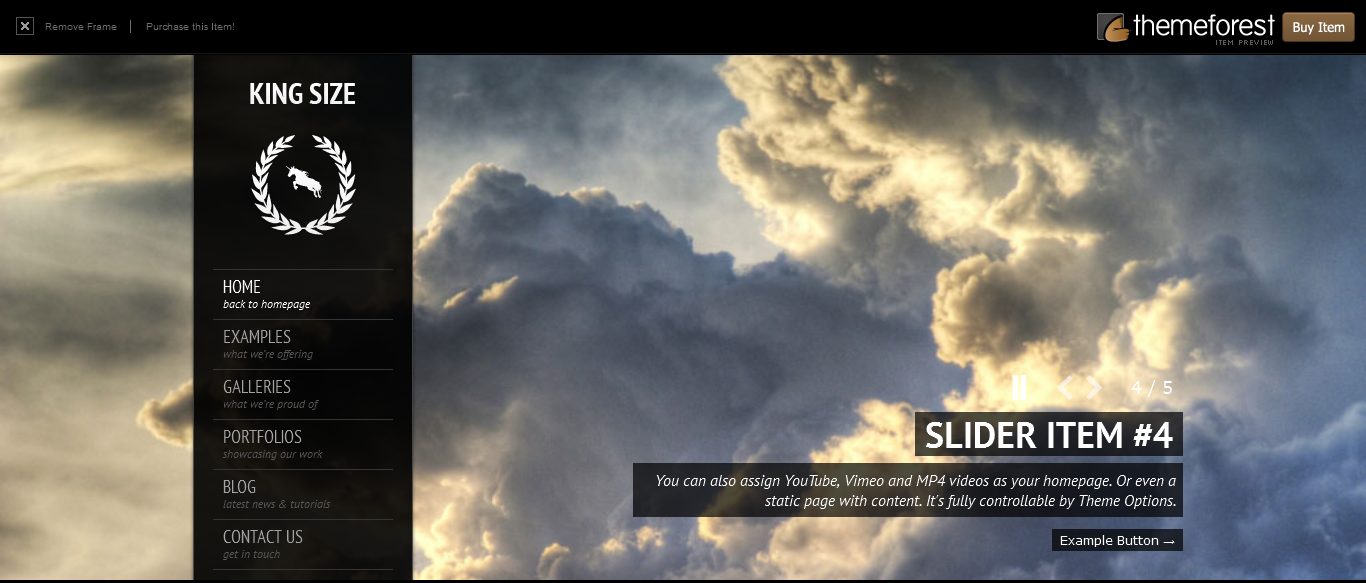 Perfect for variety of purposes
Also available as an HTML Template, King Size makes perfect for a variety of purposes, although focused towards Photographers and those using Portfolios to display their past and present work collections.
Highly customizable
Including a variety of options, King Size can be suitable to fit any particular use. Offering you five very different gallery styles (including 4 additional layout styles for ColorBox, FancyBox and prettyPhoto), with ability to blog about your photos (attach featured images) and etc.
Gallery managment has never been so easy
Creating a Gallery / Portfolio can't be any easier. You just upload your images via Media Gallery (all explained in the documentation) and automatically those images are converted to the Gallery Type you have selected for that specific page. There are no extra steps, just upload your images and click publish.
Extended help documentation with video tutorials & friendly support
Well documented and user-friendly, also including 8 video tutorials to walk you through a variety of steps (although we must apologize for the sound-quality, these will be fixed soon). If at any time you're stumped by something contact us; we're here to help.
And much more
* Fullscreen image background controlled from admin area
* Advanced theme options panel (see screenshots)
* 5 galleries to showcase your art
o prettyPhoto
o FancyBox
o ColorBox
o slideViewer
o Galleria
* Threaded comments supported (up to 5th level)
* Custom contact page template & widget
* Hide / Show menu option
* Elegant typography with custom font (PT Sans)
* Cross-browser, valid code
* In-depth documentation
Customization & development requests
As an authors of King Size WordPress, we know every detail and piece of code of the theme. We offer a top-quality, professional customization and development of King Size that will suit your needs. Please shoot us an e-mail to development[at]kingsizetheme.com and we'll love to help you!