Views
Total Download: 2/52
Theme Features
London Creative Details:
We are on holidays until July 15th 2013, therefore the support will be less frequent and we might not be able to fully answer larger questions, but we will do our best to maintain it during this period. Thank you for your understanding, we apologize for any inconveniences this must have caused.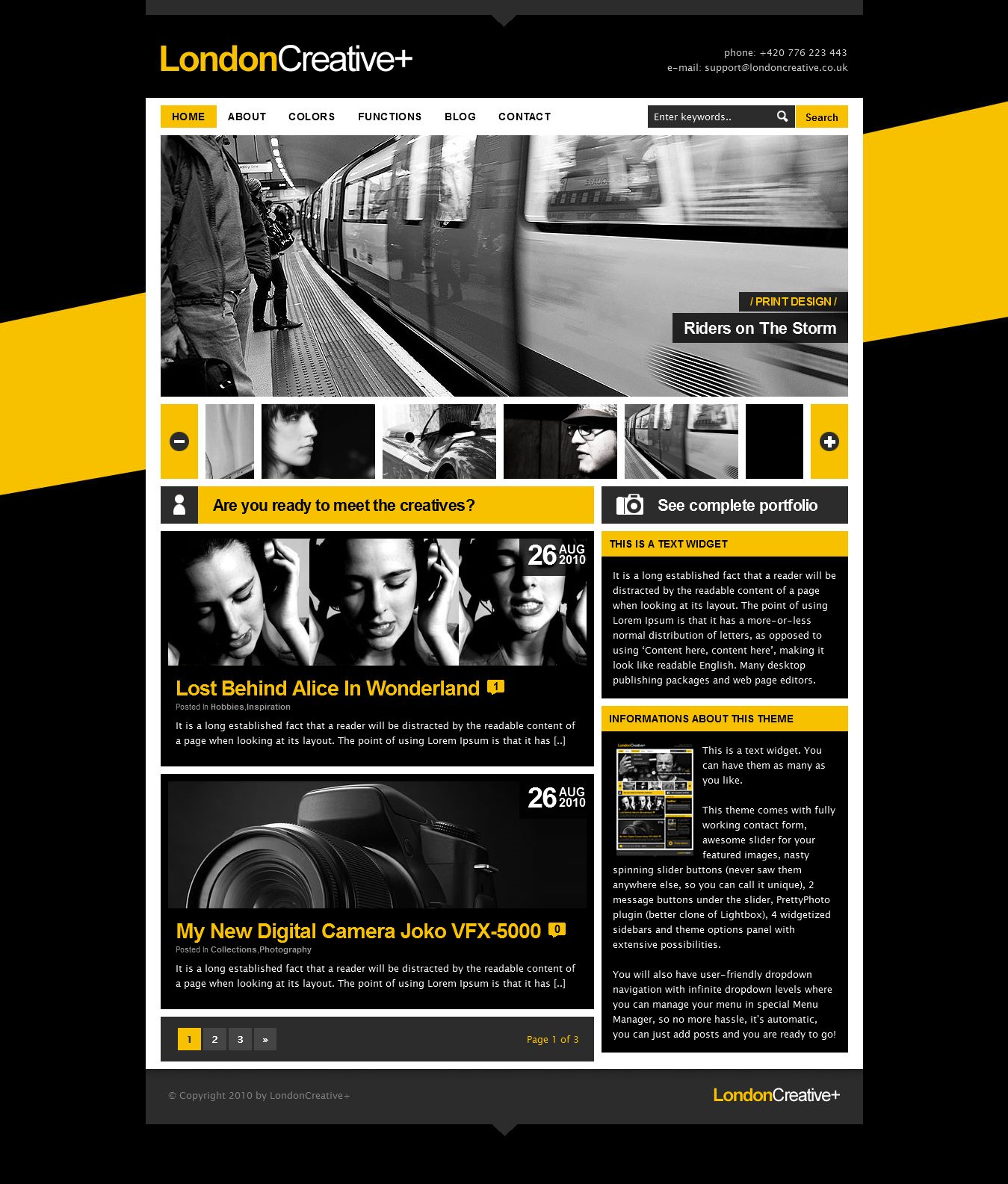 NOTE: This theme is also available in Joomla version (click here)
Theme Description
London Creative + comes with fully working contact form, awesome slider for your featured images, nasty spinning slider buttons (never saw them anywhere else, so you can call it unique), 2 message buttons under the slider and PrettyPhoto plugin (better clone of Lightbox).
You will also have user-friendly dropdown navigation with infinite dropdown levels where you can style every even list item via Jquery, so no more hassle, it's automatic, you can just add posts and you are ready to go!
Key Features
Extensive andy easy to use Theme Options Panel
3 Color Options
Sleek Slider powered by JQuery
Infinity Dropdown Menu powered by JQuery and integrated drag&drop Menu Manager
Fully Working Contact form with field validation
Sophisticated Slider Manager
Lots of transitions for Slider (see live preview)
Gallery and Gallery Fullwidth page templates
Portfolio Fullwidth – both for category view and single post view
Custom Widgets – Twitter, Contact Form, Social Icons, Popular Posts
Color Skin Switcher – you can easily change Color Skins on the fly
Each category has a new option for "order by". So you can order each category (even portfolio) differently, one for example alphabetically and another by dates, etc.
Pre-installed TimThumb PHP script for dynamic image resizing
Pre-installed PrettyPhoto JQuery plugin for viewing fullsized images via LightBox
…and much more
VERSION HISTORY
Changelog
Please see the changelog here: changelog.txt
IMPORTANT NOTE: Version 5.0 is not backwards compatible with previous versions. We have rewrote the whole codebase so it's basically a brand new theme. Please do not attempt to update your older installations with v5.0+, it will not work. If you are already running an older version, there is no need to use v5.0 because it is mostly the same theme, we have just upgraded it to our new framework.
Attributions & Credits
Our Popular WordPress Themes
Our Premium CSS3 Collection