Views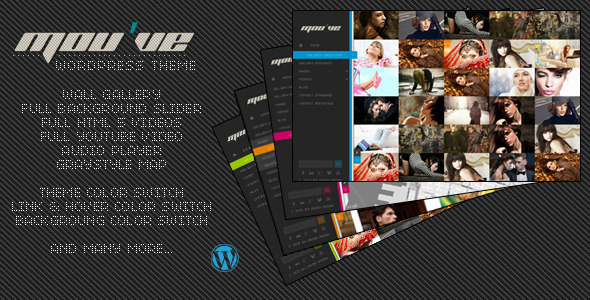 Total Download: 0/17
Theme Features
Mou`ve Details:
English
The "Mouve WordPress" theme is ideal for artists, photographers and all who like it.
The theme is designed very clean, simple and modern. All pages with shortcuts, easy and very customizable editable.
Features:
Embedded font (Smirnof)
Layout colors can be changed
Animated menu
Hide function of pages
Background music player with automatic function
customizable social icon widget with about 42 services
Full wall gallery in horizontal mode (with links to text, image, video)
Full wall gallery in vertical mode (with links to text, image, video)
Full background slider ( Super Size plugin )
Page with embedded full html 5 video (single)
Page with embedded full html 5 videos (many)
Page with full html 5 video stream YOUTUBE (single)
Blog page
Team / About us page
Full google map page in gray style
Full google map page standard
Google map shortcut in gray style
Shortcut in the standard google map
Video stream page YOUTUBE (many)
Video stream page VIMEO (many)
Contact form 7 plugin
many shortcuts functions and text formatting
Planned updates:
Parallax slider
Masonry gallery with comment function
Skills / reference site for web designers
Countdown page
Widgets: Calendar, Archive
Deutsch
Inhalt:
Das "Mouve WordPress" Theme ist besonders geeignet für Künstler, Fotografen und alle die es mögen.
Das Theme ist sehr sauber, einfach und modern gestaltet. Alle Seiten sind mit Shortcuts, leicht und sehr individuell Erweiterbar.
Im Moment sind folgende Specials eingebaut.
Features:
eingebettete Schriftart ( Smirnof )
Farben Layout änderbar
Ausblend Funktion der Seiten
Animiertes Menü
Hintergrundmusik Player mit Automatik Funktion
Social Icon Widget mit 42 Diensten
Full Wall Galerie im horizontalen Modus ( mit Links zu Text, Bild, Video )
Full Wall Galerie im vertikalen Modus ( mit Links zu Text, Bild, Video )
Full Hintergrund Slider ( auswählbar auf welcher Seite, Supersize Plugin )
Full HTML 5 Video Seite eingebettet ( einzeln )
Full HTML 5 Videos Seite eingebettet ( viele )
Full HTML 5 Video Stream YOUTUBE Seite ( einzeln )
Blog
Team / Über uns Seite
Full Google Map Seite im grau Stil
Full Google Map Seite im standard
Shortcut Google Map im grau Stil
Shortcut Google Map im Standart
Video Stream Seite YOUTUBE
Video Stream Seite VIMEO
Kontaktformular 7 Plugin
viele Shortcut Funktionen und Textformatierungen
Geplante Updates:
Parallax Slider
Masonry Galerie mit Kommentierfunktion
Skills/Referenz Seite für Webdesigner
Countdown Seite
Widgets: Kalender, Archiv
Feel free to rate our template as 5 out of 5 stars. If it's not a 5 of out 5, e-mail us and let us know what we can do to improve your experience.
Seven Media