Views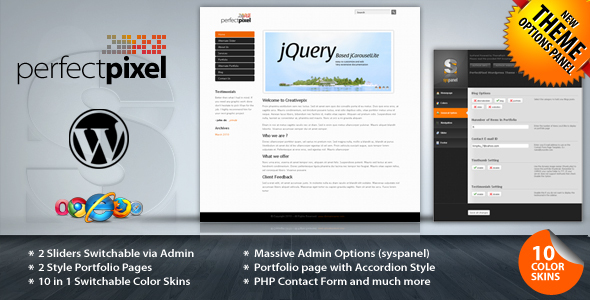 Total Download: 0/12
Theme Features
PerfectPixel Details:
14th May 2010
Fixed all the previous bugs.
Fixed bug on dual image problem on AlterPortfolio page.
Added multiple category option for gallery pages
Added new theme options panel
28th March 2010
Fixed all the previous bugs
Added timthumb enable/disable option via admin
INFORMATION
This site is best suitable for a business, company, Blog, portfolio, or freelancer portfolio website as well. For the most part you can just follow the provided Help file which is very extensive. The admin panel includes massive features by which you can easily switch styles and change custom fonts etc see complete features below.
Main Features
The Homepage includes Custom jquery Sliders with ease of switching option via Custom Theme options panel.
Homepage Sidebar includes custom widget panel which you can use only for homepage.
Highly customized Pages, Blog Page, Portfolio Page and Services Page, you are able to edit the coding if needed as i have well commented the coding.
Multilevel Dropdown Menu by Superfish.
Portfolio page with prettyphoto lightbox mixed order for video options.
Portfolio page with accordion style display for portfolio showcase with prettyphoto lightbox option.
Custom Page selection for welcome content.
10 in 1 Color Switchable Options via Admin Panel.
PSD file with perfectly layered and named, if you want to edit an existing Theme or create your own image, PSD File included with names for ease of slicing.
Compatibility ( IE 7 , IE 8, Firefox, Opera, Safari, Chrome)
Admin Features ( Qpanel )
homepage

Custom page for homepage selection below slider
Select Custom font for the theme
Select font weight for the theme
Select font size for the theme
Select font line-height for the theme
Select font color for the theme with color selector

Colors

Switch the styles for the theme
Enter custom/extra CSS if you want to use for the theme

General

Enable / Disable the categories you want to assign for blog page
Enable / Disable the categories you want to assign for portfolio gallery
Portfolio Gallery Items per page limit
Contact form E-mail ID
Timthumb Image resizing Enable/Disable

Navigation

Enable / Disable the pages you want to keep in the navigation

Mainpage Slider

Assign the category for sliders
Switch the slider style you want (2 sliders included)
Enter the number of slides you want to keep for slider

Footer

Google Analytics Code Script textarea
Custom copyright content textarea
Assets & Scripts Credits
jQuery
Gmarwaha.com
jQuery Cycle
PrettyPhoto
DDbelated PNG Fix
Drop Down Menu – Superfish
Photo courtesy Photos8.com
Photos from Flickr Creative Commons Library – Thanks to photographers.