Views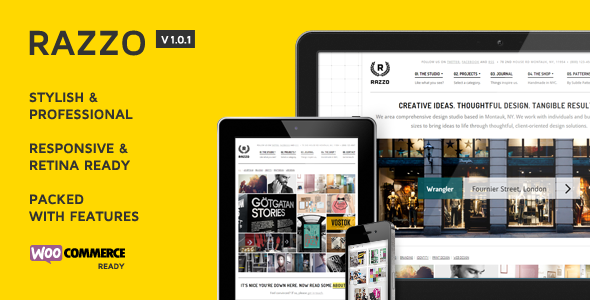 Total Download: 3/84
Theme Features
Razzo Details:
Razzo Premium Business / eCommerce WordPress Theme
Razzo is a Premium Business / eCommerce WordPress Theme that's easy to set up with a portfolio of work to show, such as architecture, design, and event firms, and is most suited for businesses, creative agencies and blogs.
This Theme Price Is Only $55 USD
Responsive Design & Retina Ready Graphics

The theme was made to not only look and behave great in the latest desktop browsers, but in tablet and smartphone browsers via responsive CSS as well.
Touch Navigation Super Smooth Hardware Accelerated Slider

Slider doesn't have thousands of fancy transitions, but every that it has is as smooth as current day technology allows.
A WordPress eCommerce toolkit that helps you sell anything.
Transform your WordPress website into a thorough-bred eCommerce store. Delivering enterprise-level quality & features whilst backed by a name you can trust. Say hello to WooCommerce.