Views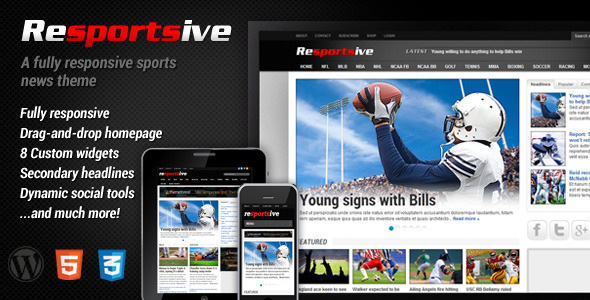 Total Download: 6/369
Theme Features
Resportsive – Responsive Details:
A fully responsive sports news WordPress theme featuring a drag-and-drop homepage, eight custom widgets, dynamic social tools and much more! Resportsive gives you the look and feel of a major sports news outlet all in one easy-to-use and highly customizable theme!


Key Features

Responsive Design – Resportsive theme adjusts its layout based on the device it is being viewed on. This means the theme's content will be easy to read and easy to navigate whether it is being viewed on a desktop computer, a tablet or a mobile device.
Drag-and-Drop Homepage – Create unlimited homepage layouts by dragging and dropping our custom widgets into the layout that give your website the professional look and feel you are truly looking for.
Eight Custom Widgets – From a custom carousel widget that displays your content prominently on the homepage to a dynamic tabber widget for sidebar content, Resportsive gives you the flexibility and ease of use to display your content the way you want it without altering any code.
Featured Headline – Most major news and sports sites use shorter "teaser" headlines in their featured content section on the homepage. Resportsive gives you the same option to spruce up your featured items with a custom "teaser" headline.