Views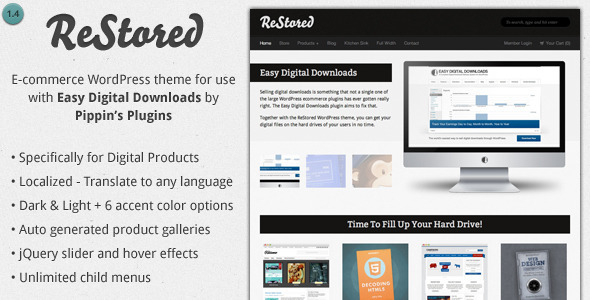 Total Download: 0/106
Theme Features
ReStored Details:
Sell Digital Files with WordPress and Easy Digital Downloads
ReStored is built to make use of the Easy Digital Downloads ecommerce plugin, making your WordPress install an awesome looking store. ReStored makes it easy to get your digital products front and center to start making sales.
This Theme Price Is Only $55 USD
If you have any questions about how the digital cart system works, please visit http://easydigitaldownloads.com/ or try the Easy Digital Downloads plugin for yourself. This theme simply styles how Easy Digital Downloads looks and displays, it does nothing (or at least very little) to the functionality of the plugin.
Features
Makes use of and requires the Easy Digital Downloads plugin.
Translation file included! – Use ReStored WP in any language
jQuery slider on the home page to showcase your featured products, plus jQuery hovers for the rest of your products.
Simply upload your product images to that post and ReStored will automatically generate a lightbox gallery on that product's page. No messy shortcodes or plugins needed. It's like magic.
Auto-sizing widgets on the home page. Put them either above or below the latest products and use as many as you want. ReStored will automatically size them and make them look good.
Light, Dark, and Minimal Light color schemes along with 6 color options for the buttons and accents across the site.
Easy setup with easy to follow instructions.
Valid XHTML
This theme only works with digital products. To sell physical goods, please see the original Stored WP theme.
Support
Support is provided to all customers at http://support.designcrumbs.com. You'll need your Purchase Code to access this theme's section in the forum. To find your purchase code, go to your Downloads page, click on "License Certificate" on the theme you wish to get support on, open the file and look for the "Item Purchase Code". That's what you'll need.
Support for the Easy Digital Downloads plugin can be found at http://easydigitaldownloads.com/
To sell digital products, this theme requires the Easy Digital Downloads
Changelog
1.4: Updated the jQuery UI and put in several CSS updates to accommodate EDD 1.4
1.3: Removed the price from the 'Purchase' button implemented in the new EDD
1.2: Updates to coincide with EDD 1.3.3
1.1.1: Structure and help file updates
1.1: Fixes for EDD language issues and buttons showing up twice
1.0.3: CSS fixes & additions
1.0.2: Fixed the home link on the logo to reference home_url()
1.0.1: Added entry-content class to product posts
1.0: Initial release