Views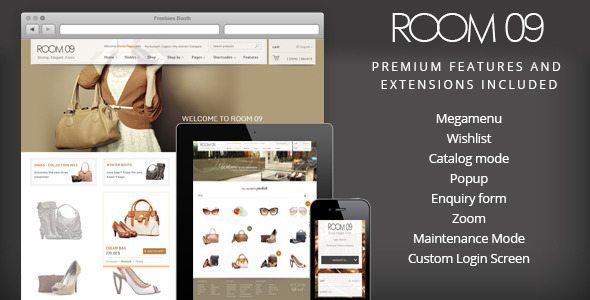 Total Download: 0/59
Theme Features
Room 09 Shop Details:
Room 09 is a clean and easy to customize Woo Commerce theme. This WordPress template is one of the most powerful and flexible templates at WordPress store and include a lot of premium features and woo commerce extensions, like the Wishlist and the Zoom Magnifier and the product enquiry form (to use the theme like a catalog, without the cart).
Room 09 is designed with unlimited layout options and a lot of unbelievable features.
Some features of Room 09 are:
Wishlist feature
Zoom effect in the product detail page
Popup plugin included to show offers and news
Megamenu with images support; List/grid view in the products page
2 custom checkout pages (a nice tabbed checkout page)
"Catalog mode" to use the theme like a catalog, without the cart option and with a "product enquiry form"
Filterable faqs
Shortcode manager with 300+ shortcodes
…and so on!
Also a corporate theme
Enjoy Room 09 for your corporate or portfolio site! turn off the cart and use it for your corporate theme. There are 4 different portfolio layouts, 4 blog layouts, services page, testimonials and faqs page, contact page with a google map panel and so on.
HOW WE PROVIDE SUPPORT
We provide support only through our support desk. Register yourself in our site, then active your theme in this page.
After this here you can find a "themes" section that contains the url of the sample data that you can download, a list of videotutorials availables and you can also open a ticket to get support.
Testimonials
turner2f: This is the best WP WooCommerce theme we have ever purchased across the board and the setup with the samples was super easy. You guys worked really hard behind the scenes on this one. Wish more authors would invest in their product the way you did on yours. Love the fact you invested in all the plugins because you will definitely be getting more sales in return. This will be our Flagship WooCommerce theme for a long time for all of our clients. Feel free to add us to your landing page of quotes.
seowebgirl: I just want to say that this is one of the nicest WP themes I have ever worked on with an ENDLESS amount of options and GREAT shortcodes. I have worked on MANY WP themes both paid and free – some using sample data, some not. With this one i went with the sample data bc i love the look and feel already and it makes it easier to just add/delete features as needed. I also love the multiple home pages you designed for us. Thank you again for all your hard work. 5 STARS all the way!!!!!
antipasti5000: Purchased! Worth every cent I paid… Plug ins are very powerful and support is absolutely fantastic. Recommend this to anyone looking for a quality ecommerce template with lots of options… Thanks for the hard work!
ninja21: I just wanted to thank you for such a wonderful theme and the support supplied. I had an issue after updating the theme and I had it resolved within 24 hours. We use your themes a lot for our clients so again thank you.
SHOP Features
Compatible with WooComerce plugin
Multiple payment options and Supports Tax
User accounts and order tracking
List and Grid view in the shop page
2 thumbnails layouts
2 product page layouts
Shipping Options
Coupons option
Downloadable/digital products support
Product sliders – best sellers, featured, top rating, on sale, recents – and product categories slider
Shortcodes for featured products, recent products, best sellers and general products (you can set how many items to show, the type of order and so on)
Wishlist feature
Share product feature to show the product page on your social channels
Detail page of the product with:

Multiple images for your product with slider and Zoom Effect
Related products, ratings and description tab
A "product enquiry" tab with a contact form: user can contact you to ask about products
Custom tabs: add custom content in the product page
Unlimited product variations option like size, colors and so on

Megamenu features with the 'Shopping by Price, Categories and Brand' function (very useful features and used in all e-commerce sites!) and images support.
2 custom checkout pages (a nice javascript tabbed checkout page
"Catalog mode" to turn off the cart and use the theme like a catalog
Popup to show offers, special sales, news and so on!
Full WPML support with a widget in the header to show different languages
"Welcome XXX" feature in the header when the user is logged
Javascript Cart tab
much more..
SEO Optimized
On each page and on each product page you can improve your SEO by adding custom title, description, keywords and so
on. Also, in the theme options panel you can set the general keywords for your site. Also, on each page you can use the h1, h2, h3 structure and improve also the usability of
your site with the breadcrumbs feature.
Shortcode Manager
300+ shortcodes: button, tabs, tables, sliders, widgets and so on;
Product sliders – best sellers, featured, top rating, on sale, recents – and product categories slider
Shortcodes for featured products, recent products, best sellers and general products (you can set how many items to show, the type of order and so on)
Shortcode manager: add elements on each page with just one click, without copy and paste html/css code.
Choose Your Fonts & Colors
Over 500 Google fonts – the google fonts list will be automatically updated;
Set font and size for titles, slogan, body text and more;
Unlimited combinations of colors;
50+ custom backgrounds + bg images uploader: set a different background for all pages and posts;
Header upload: upload a different header image for each page.
General Features
Unlimited Sliders with 8 Different responsive Slider Types (a Premium Revolutions slider and a Grid
slider Included for a Value of 110$)
You can have a different slider for each page and choose from 8 different slider types:
Flexi slider (elegant layout): elegant and responsive slideshow to display images and text;
Flexi slider (basic layout): a simple and responsive slideshow to display images;
Rotating Slider: a nice faded slider where you can set how many panel to display
Revolution Slider: premium slider;
Elastic Slider: original responsive slider;
Awkward slideshow: amazing slider, with thumbnails and tooltips!
Piecemaker slideshow: a flash creative slider;
Revolution slider: a original premium slider.
Layout boxed or stretched style
Extensive Admin Panel
Child theme support
1170 pixel layout based on the Bootstrap Grid
15 custom widgets
Fully customizable 404 error page
Custom login page
Maintenence mode feature
Sitemap page
Custom post type for testimonials (4 layouts)
Filterable FAQ page
Services page
About page
Unlimited accordion (toggle) slider
Unlimited vertical tabs to show shortcodes, content and products
Unlimited sidebars
Unlimited animated banners
Post formats for video, audio, quote and gallery
Unlimited contact forms with javascript error control
4 Blog layouts + thread comments
Corporate features
Unlimited Portfolio with 9 portfolio layouts
4 different layouts for portfolio: filterable, big image, two columns, three columns, four columns, with sliders, "pinterest style", detail (with a nice javascript effect) and full description;
4 blog layouts
Post formats: video, audio and gallery
Screencast Theme Support
Customize your theme easily with our video tutorials.
Sample Data
Import our sample data and make your WordPress look like our demo with just one click!
Update history
Version 1.3.0
Added: 'yit_after_woocommerce_product_subcategories' hook
Added: Remove item button in Header cart
Added: Open Graph enable button
Added: Category link and Read More button
Added: Filter yit_search_mini_text
Updated: Revolution Plugin to 3.0.8 version (added compatibility to 3.6 WP)
Updated: Complete French translation by Follow Media
Fixed: Content margin on shop above 1200px
Fixed: Contact form warning while submitting emails
Fixed: Last tweets widget, error on multiple lines
Fixed: Header cart content after WooCommerce 2.0.13 upgrade
Fixed: Product terms header image style
Fixed: Wrong textdomain for translation in woocommerce.php
Fixed: Typography error in Theme Options > General > Newsletter
Fixed: Page meta position on boxed layout
Fixed: Notifier cache
Fixed: OGP title now use the correct title also if you use SEO options
Fixed: Line breaks on menu
Fixed: z-index of submenu
Fixed: Product categories moving when hovered
Fixed: Images generated correctly also when on SSL
Fixed: Minor issues with SSL
Fixed: Product Actions without product price
Version 1.2.2
Added: WPML string "shop-products-details-contact-form"
Added: Feature to get the footer menu on one column with the class column-1
Added: filter woocommerce_loop_thumbnail_url
Added: hook woocommerce_simple_product_before_quantity_selector
Updated: language files
Fixed: yit_add_to_cart_text filter
Fixed: arrows hidden in the products sliders
Fixed: "hide_empty" error
Fixed: Metabox tabs on cyrillic languages
Fixed: Blog big image meta were not working correctly
Fixed: General images size
Version 1.2.1
Updated: language file
Updated: sample data
Fixed: loading responsive.js and jquery.custom.js in child-theme if exists
Fixed: white space in black white space, in the product detail page
Fixed: bookmark icon for [share] shortcode
Fixed: cropped images even with hard crop deactivated
Fixed: Image hover size
Fixed: Product Inquiry tab better management
Fixed: variations names in single product page dropdowns
Fixed: notice on contact form headers
Fixed: multi row footer
Version 1.2 – Jun 26
Added: YITH WooCommerce Ajax Navigation plugin
Added: YITH Woocommerce Compare plugin
Added: Partial danish translation
Added: SSL controls to the footer and logo
Added: global options for Twitter API
Updated: Twitter widget and shortcode now work with new API
Updated: language files
Updated: improved time loading
Fixed: IE8 menu (in responsive JS) Fixed: Javascript files in child themes
Fixed: WPML Languages switcher position in the cart
Fixed: OGP HTML tag
Fixed: Home Row typography options in Typography > Sidebar
Fixed: Pages breadcrumb
Fixed: apple touch icons name
Fixed: "undefined" bug in share link of product detail page
Removed: Home Row typography options in Colors > Home Row
Version 1.1.1 – Jun 18
Updated: language files
Fixed: wrong trackbacks and pingbacks shown in posts
Fixed: javascript error on placeholder with 2.0.11 version of woocommerce
Fixed: placeholder error on contact forms
Fixed: image resize on SSL
Fixed: Topbar menu in multi language
Fixed: Primary removed when empty
Fixed: textdomain issue
Fixed: product category box margin
Fixed: Scroll disabled on Safari iOS
Fixed: bug with configuration restore of theme options
Fixed: Metabox slider error
Fixed: Translation issue in simple product
Version 1.1.0 – Jun 7
Added: yit_get_admin_post_type() and fixed page metabox on products
Updated: Wishlist plugin 1.0.2
Updated: now checkout multistep support WooCommerce Stripe Gateway plugin
Fixed: Notice when disable admin panel header
Fixed: improved compatibility with WooCommerce Name Your Price plugin
Fixed: Font Awesome images
Fixed: Fees on review order page
Removed: Gravity Forms plugin
Removed: WooCommerce Ajax Layered Nav plugin
Removed: WooCommerce Compare Products Pro plugin
Removed: Gravity Forms Product Addons plugin
Version 1.0.2 – Jun 5
Added: Product category description in category page
Added: Support for description on blog Categories and Tags archive pages
Added: OGP Meta tags
Added: Option to change popup layout border color
Added: filter 'yit_related_products_title'
Added: confirm message when you want install the sample data
Added: social icons for: Mail, Vimeo, Vine
Added: French languages pack
Updated: added message 'Add to cart' in Wishlist page
Fixed: bug in compare popup when filter ajax layered nav
Fixed: bug in wishlist link when filter ajax layered nav
Fixed: Tab reviews is always the last tab
Fixed: Price and title typography options in single product page
Fixed: Typography of custom product tabs
Fixed: Options in WooCommerce > Settings > Catalog
Fixed: Warning on WP_Roles
Fixed: Breadcrumb fatal error on posts without category
Fixed: Compare/Wishlist/Share working also on single product page when shop is not enabled
Fixed: custom.css file located also in the child theme
Fixed: Text with Image link in the footer
Fixed: Translation issue in Recent Comments widget
Fixed: Terms & Conditions checkbox style in the checkout
Fixed: Faq filters with utf8 characters
Fixed: Sale badge everywhere with WooCommerce 2.0.10
Removed: Show details icon (in classic layout) option
Version 1.0.1
Added: option to show/hide the language switcher on mobile version
Added: Option to change text for the newsletter form on Maintenance screen
Fixed: Style of WooCommerce message box in the cart
Fixed: Checkout "<—Payment button" position
Fixed: Testimonials archive page
Fixed: "Balck & White" label
Credits
Icons: Basic set icons and Nixus icon set
Navigation icons: Picons icon set, purchased with regular license and included in the theme with the permission of the icon's author.
Images: the mages used in our theme are used only in the live preview. We don't include the images of the demo in the theme package.
500 Buttons essential: <a href="http://wrapbootstrap.com/theme/button-essentials-button-pack-WB00T81AK">http://wrapbootstrap.com/theme/button-essentials-button-pack-WB00T81AK, purchased a multiple applicationslicense.
Contact form and buttons icons: <a href="http://fortawesome.github.com/Font- Awesome/">http://fortawesome.github.com/Font-Awesome/
Awkward slideshow: http://www.awkwardgroup.com/sandbox/awkward-showcase-a-jquery-plugin/
Elastic slider, thanks to Codropos: <a href="http://tympanus.net/codrops/2011/11/21/elastic-image-slideshow-with- thumbnail-preview/">http://tympanus.net/codrops/2011/11/21/elastic-image-slideshow-with-thumbnail-preview/
Revolution slider: http://codecanyon.net/item/etalage/180719
Flexi Slider http://www.woothemes.com/flexslider/http://codecanyon.net/item/jquery- dynamic-grid-xml-gallery/2590664
Piecemaker Flash slider: <a href="http://www.modularweb.net/#/en/piecemaker/piecemaker- demo">http://www.modularweb.net/#/en/piecemaker/piecemaker-demo
Google Fonts: Webfonts with Google fonts
jCarousel by Sorgalla.com: http://sorgalla.com/jcarousel/
Rotating slider: <a href="http://tympanus.net/codrops/2011/04/28/rotating-image- slider/">http://tympanus.net/codrops/2011/04/28/rotating-image-slider//
Elastislider by Tympanus: <a href="http://tympanus.net/codrops/2011/09/12/elastislide-responsive- carousel/">http://tympanus.net/codrops/2011/09/12/elastislide-responsive-carousel/
Animated banner by Tympanus: http://tympanus.net/Tutorials/CreativeCSS3AnimationMenus /