Views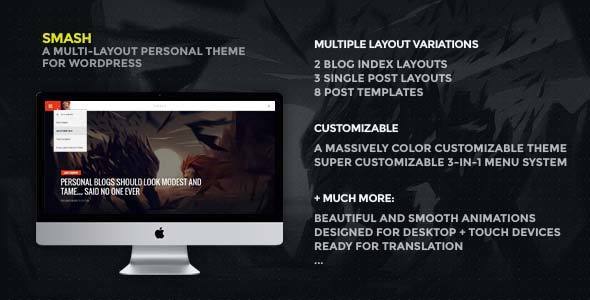 Total Download: 0/22
Theme Features
Smash Details:
Smash: A personal, super-customizable, multi-layout WordPress theme
Thank you so much for having a look at Smash!
The goal with Smash was to build a truly unique and expressive blogging theme for WordPress. Starting with the unique menu, unmissable position of the author image in the header, big headlines, full-screen images, and ending with multiple layouts and placing an insane amount of customization options at your fingertips, Smash is Bonfire's most personal, varied and option-filled theme yet.
We wanted to offer a well-defined, instantly memorable design and — through a selection of layouts that are different but still unmistakeably Smash — last you a long time.
Please do have a look at Smash's demo site here as well as the rest of the content on this page to find out more information about some of the more stand-out elements of the theme, as well as what you can expect when you purchase a Bonfire product.
Customers love Bonfire Themes!
As always, you can rely on our support should you need it. If you're an existing customer and have spoken to us previously, then you already know what that means. If you're new, then here is just a taster of what our customers have to say about Bonfire Themes:
"Great products, matched by great customer support."
"A customer service like that, I haven't seen for a long time!"
"I am one happy customer indeed! Thank you guys! Keep up the good work!"
"This is by far the best support.."
"… extreme fast response!!!"
"Thanks for your speedy service! :)"
"Best support I've ever seen! .. Five stars is not enough!"
"Wow, thanks for the prompt response."
"… customer service provided goes above and beyond … An excellent experience from start to finish."
"Thanks for such a speedy response! You rock man!"
Originally posted 2014-09-08 23:00:00.