Views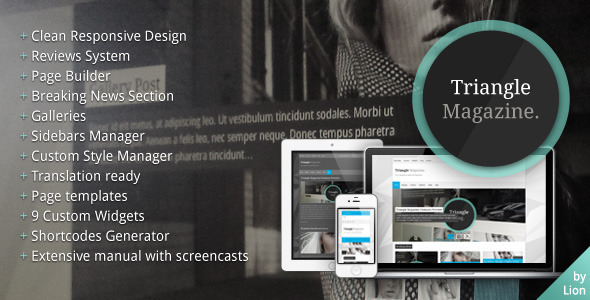 Total Download: 0/153
Theme Features
Triangle Magazine Details:
Triangle Magazine is responsive modern clean magazine/blog WordPress theme with built in review system, page builder, Breaking News section, sidebars manager, custom style manager, 9 custom widgets and much more. Comes with 2 custom post types: Reviews and Galleries. With review system you can easily create rating criterias and for each criteria you can add as many as you want fields like design, gameplay, actors, storyline, price, quality and etc. You can create reviews for whatever you want: tablets, perfumes, smartphones, cars, food, films, music and so on. On top of that each page/post can have its own sidebar and background. With galleries post type you can create as many as you want galleries and for each there will be generated gallery shortcode so you can easily add galleries to posts and pages.
Magazine page builder comes with Breaking News section and 10 modules that you can add, remove and rearrange using simple drag n drop functionality. Each posts based module and Breaking News section can display recent posts or posts from given category from each of post types (regular posts, review posts and gallery posts). Page builder modules are reusable so you can add as many as you want.
Page Builder Modules :
Posts
Posts Column
Posts Carousel
Tabs – you can add as many as you want tabs and you can mix posts from different post types categories
Gallery
Gallery Column
Text
Text column
Video
Video Column
Page builder also provides slider manager. You can choose to have slides from given category or you can add your own slides. Also instead of slider you can place embedded video.
Category view page template – you can easily display posts from given category from each of post types and you can choose between two display styles: standard and grid. Also you can enable pagination and choose how many posts to be shown.