Views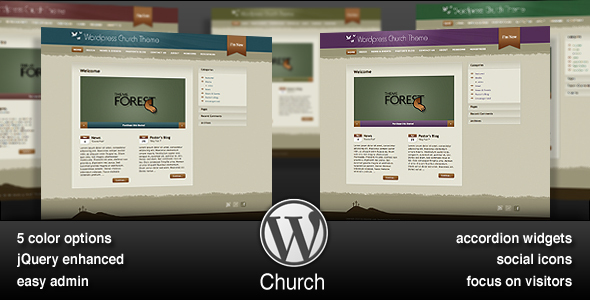 Total Download: 0/237
Theme Features
WordPress Church Details:
The ORIGINAL church-themed WordPress template.
What buyers are saying:
"Awesome theme. It's great!
"Easy to use and very well documented instructions.  RocketMan
"The site has worked great, with functionality and style." – har42335
"This is a great theme." – ctfreese
"Dude! Your theme just rocks! You did an amazing job. Your customer service has been excellent also. Thanks for all the help." – CyberShot
"Great theme. No hitches in installation. Your step by step instructions were very easy to follow." – hammannr
"I LOVE this theme!" – lifeSongWorshipCenter
"YOUR THEME IS WONDERFUL " – graceolsson
"This is a great theme, thank you!" – tribulant


Features:
WordPress menu support
Featured items on the home page
"News & Events" and "Pastor's Blog" on the home page
"I'm New" banner to focus on visitors
Clean Subpage listings in the sidebar.
Tool tips! Just add a "tooltip" class to links to make your own
Social bookmarks for sharing posts and articles
Twitter bookmark automatically generates a TinyURL
Promote the church's RSS , Twitter, and Facebook profile
Doves in the header and Crosses in the footer.
Use a single post page to add media, news, and blog content
Widget Ready!
PSD included!
FREE version upgrade if you purchased this theme


Updates

Version 2.0
Added admin control panel
Customize the date of the calendar icon with custom fields
Insert YouTube videos and audio files with custom fields
Version 2.1: Drop Down Menu
Version 3.0: Collapsible Widgets
Version 4.0
Built-in content slider with auto-image scaling
Admin panel updates
More jQuery goodness 😉
Version 4.5: 5 color options
Version 5.0: WordPress 3.0 menu Support
Version 5.1: Minor jQuery animation improvements.


Resources
You can purchase an HTML only version of this theme here
If you would like to integrate PayPal for online giving, click here for more info
If you would like to add an event calendar, check out this plug-in
Font used is "FFX Thin" and is available FREE at http://www.fonts101.com
For an example of a real webiste using this theme, visit http://1stbaptistchurch.org/


Support
\\ My support forums: http://themolitor.com/forums
\\ Twitter
\\ Facebook
\\ YouTube
\\ My personal site
\\ ThemeForest forums
\\ Email