Views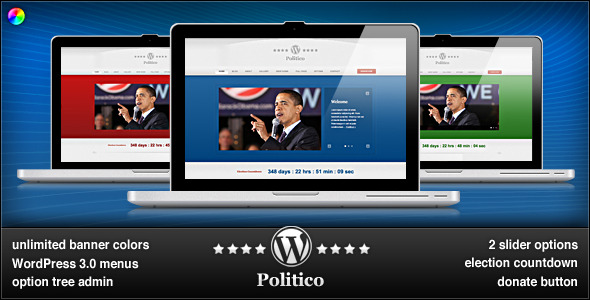 Total Download: 1/181
Theme Features
WordPress Politico Details:
This Theme Price Is Only $35 USD
Blog Description:
The premier political theme on Theme Forest! WordPress Politico is ideal for political campaign sites. The slideshow is great for drawing attention to important issues or promoting a candidate into office.
What buyers are saying:
"Wonderful theme! \\\\\\\\\\ cheers!" – tonvie
"I've purchased about 25 templates from ThemeForest, and I have to tell you that this is by far the best. The coding is perfect and clean, the design is perfect, and the whole thing was just so well thought out. Very refreshing. Bravo." – wiltwyck
"Great theme. Super easy to setup." – ideanna
"The theme is very well written and themolitor is great about support. My questions were answered in a couple of hours. Can't ask for more than that! " – cudneys
"This template is by far one of the best I have purchased or seen on the web" – ThierryNakoa
Features:
WordPress 3.0 menu support
UNLIMITED banner colors
FREE version upgrade if you purchased this theme
Customizable "Donate Now" button
Customizable Election Countdown
2 slideshow options – Nivo Slider and Dual Slider
Easy logo customization
Super easy admin panel using the Option Tree Plugin
Easy thumbnail images with built-in WordPress system
Tooltips – just add a class "tooltip" to links to create your own!
Full width page template included
Updates
Version 1.1
Fixed: 2nd level drop down menu bug in IE.
Added: OptionTree settings are now built into the theme.
Requirements:
Self-hosted WordPress installation
PHP 5 +
OptionTree plugin (free)
Support
\\ My support forums: http://themolitor.com/forums