Views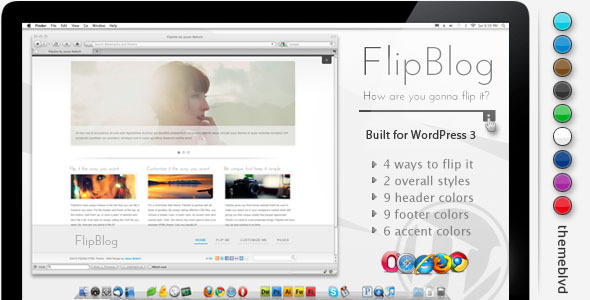 Total Download: 40/6601
Theme Features
FlipBlog Details:
FlipBlog is the hottest new thing since sliced bread. This theme is like a Rock Star buisness/portfolio theme got together with a hip blog theme and had a baby. Yeah… FlipBlog is the whole package.With FlipBlog, visual customization is key. It's impportant that you have total control over the look of your site all from the comfort of your WordPress admin panel; this theme gives you that!
Slideshows
With FlipBlog, slideshows are a breeze. Create an unlimited number of slideshows for your website. You can assign a slideshow and configure it for any of your homepage options. You can also configure and insert a slideshow into any Page or Post with the simple shortcode, [slideshow].
Portfolios
Creating Portfolios from your WordPress admin panel has never been easier. FlipBlog gives you that slick portfolio to show off your art, products or whatever the heck you want to show with very little effort on your part.
Introducing "Theme Hints"
If the rock solid documentation included, built-in documentation scattered throughout your WordPress admin panel, and over 30 minutes of video tutorials wasn't enough, I'm also introducing a new feature to help you get started called Theme Hints. Turn on Theme Hints and then browse through the front-end of your website to see clues on where and how to edit the different parts of your website.
Getting Started
In a nutshell, this is what you're getting for only $37…
* Valid XHTML Strict 1.0 and CSS level 2.1 tableless design
* Total Visual Customization through your WordPress Admin panel – Learn More
o 4 ways to "flip it"
o 2 overall styles (Light and Dark)
o 9 header colors (Aqua, Blue, Brown, Dark, Green, Light, Navy, Purple, and Red)
o 9 footer colors (Aqua, Blue, Brown, Dark, Green, Light, Navy, Purple, and Red)
o 6 accent colors (Aqua, Blue, Green, Navy, Purple, and Red)
* 18 shortcodes for your Posts and Pages
o Notices Shortcodes- Learn More
o Layout Shortcodes – Learn More
o Slideshow Shortcode – Learn More
* 4 custom widgets included
o Jaybich Recent Posts
o Jaybich Simple Contact
o Jaybich Ads – Square Buttons
o Jaybich jQuery Twitter feed
* 6 dynamic widget areas
o Blog Sidebar
o Pages Sidebar
o Drop Down Panel Boxes
o Homepage #1 Boxes
o Homepage #2 Boxes
o Homepage #3 Boxes
* 5 Homepages to choose from – Learn More
* Unlimted Slideshows – Learn More
* Unlimited Portfolios – Learn More
* Built for WordPress 3+ – Learn More
* Contact Form Builder – Learn More
* Full Lightbox Integration – Learn More
* 6 Video Tutorials
o Theme Overview
o Getting Started
o Slideshows
o Slideshow Shortcode
o Portfolios
o Homepage Options
* Extremely detailed and well-organized documentation
* Localization .PO file included (for translation into other languages)
* new "Theme Hints" to help you get started – Learn More