Views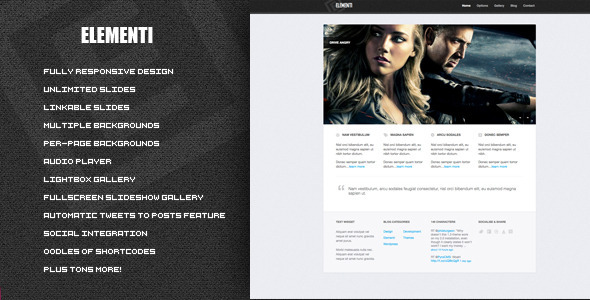 Total Download: 5/510
Theme Features
Elementi WordPress Theme Details:
This Theme Price Is Only $35 USD
Blog Description:
Elementi is a super-awesome Premium WordPress Theme with oodles of features.
Elementi comes packed with an easy-to-use un-branded Options Panel and great documentation.
Elementi is suitable for any type of site. Portfolio, photographer showcase, inspiration gallery, freebie site, this theme can do it!
Features Include:
* Fully Responsive design
* Unlimited linkable slides
* Standalone MP3 Audio player
* Multiple backgrounds
* Per page backgrounds
* Lightbox gallery
* Fullscreen slideshow gallery
* jQuery / Cookie based notification bar
* Related posts via Tags
* Built-in ajax contact form
* Automatic Tweets to Posts feature
* Automatic text links
* Built-in Like script
* Built-in view script
* Tons of Icons
* Automatic image sizing
* Custom Typography Options
* Social Integration
* Custom Post Formats
* WordPress 3 menus
* Lots of built-in WordPress shortcodes for easy styling
* Google analytics
plus tons more!
Notification Bar
Get visitors attention with our custom notification bar. Add text and links that users can see immediately. It is setup to work with cookies so when a user closes the bar it won't notify them again for another 7 days until the cookie expires!
Unlimited Slides
Managed via a custom post types makes adding slides super-easy! Simply set the image you'd like as a featured image, give it a title to show as a caption and you're done! If you'd like to link it somewhere simply type the link into the content box, no need to mess around with anchor tags, just type the full URL inc http:// and the theme will autolink it!
Add some sound!
With our built-in audio player shortcode adding music anywhere is as easy as
Per-page Backgrounds
Want a different look per-page? Easy! Just set a featured image for that page and it will automatically be scaled and set as the background!
Tweets to Posts
Simply add your username and email in the options panel and this theme will automatically grab your tweets and create posts from them!
Dual Galleries
A gallery for every occasion! Product or item? Use the default gallery. Wedding, holiday, photography? Use the fullscreen slideshow!
The theme will automatically resize your images, and if using the default gallery it will add them all to a lightbox too!
NOTE : Don't forget, if you like the theme, rate it via your downloads!