Views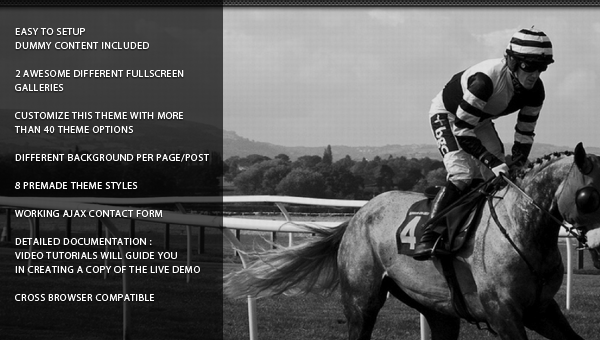 Total Download: 1/355
Theme Features
HD Photographer WP Theme Details:
This Theme Price Is Only $35 USD
Blog Description:
Theme Info
HD Photographer is a WordPress theme that makes a visual impact, and will make your style and content stand out. Most features and options are built directly into the Edit page, for great ease of use. And offers lots of possibilities to present your business, brand or portfolio
Customization !
Through the options panel you can customize the way you want, every single aspect of these 2 galleries. Take a look at the screenshots page of this theme and see how many options you've got to customize your template. Also you can choose a different background for each page, post and category ! You can customize your footer through our theme options panel, choose if you want to hide additional content, add custom content or show an additional navigation powered by WP 3 Menus.
Galleries Customization
HD Photographer brings you 2 Custom Post Type powered galleries, upload your pictures to your host or use remote hosted pictures (i.e from flickr) Through our theme option panel you can customize your gallery the way you want. You do not like an effect ? Change it ! With more than 30 different jquery powered animations. Take a look at the screenshots section for more info and options
Documentation
Improved documentation with video tutorials that will guide you in creating a copy of the live demo.
Theme Features
Full screen background, it will fit on every screen even if you resize it.
Easy to Setup with dummy content file included
Unique and indipendent Background image to any post, page or category.
Cufon Font Replacement
More than 40 Theme options available
Custom Write Panels
2 Awesome Full Screen Galleries
Side Gallery (customizable via theme options panel)
Unlimited Pictures !
Enable or disable automatic thumbnails resize
Choose if you want to show 1,2 or 3 thumbs per row
5 Different backgrounds for the sidebar thumbs scroller
3 Different fullscreen picture display methods (full, fit, original)
Scroller Panel Animation Effect (more than 30 effects)
Thumbnails Scroll Animation
Hide & Show Panel Speed
Thumbs Scroll Speed
Additional content at top or bottom of thumbnails
Thumbnail Scroller Gallery (customizable via theme options panel)
Customizable picture title
Unlimited Pictures !
3 Different fullscreen picture display methods (full, fit, original)
Enable or disable automatic thumbnails resize
Customize your Thumbnail Size
Hide or Show Picture Title
Page Customization
Custom Different Background for each page
Enable or disable footer
Enable or disable sidebars
Content Alignment (top left, top right, bottom right, bottom left) Only available to fullscreen home layout (like live demo home page)
Contact Form Customization
Custom email address via theme option panel
Custom Success Message via theme option panel
Footer Customization
Custom Copyright Text
Additional Content
Choose if you want to show or hide additional content
Show or hide custom navigation menu WP 3 Menus Powered
Custom content (html enabled)
Disable additional Content