Views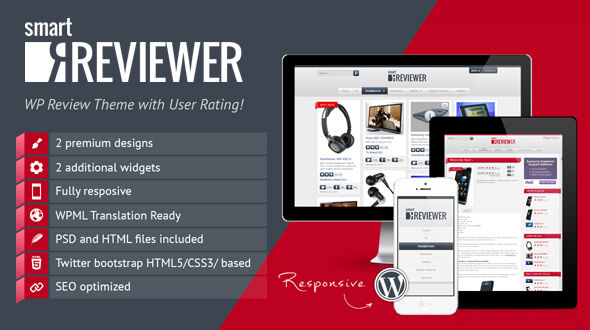 Total Download: 0/11
Theme Features
SmartReviwer Details:
Our Review: SmartReviwer is a fully responsive WordPress Theme for product reviews. This theme was provide by "meshkovst". It was build with by latest frame work and code twitter bootstrap, HTML5 & CSS3. Included file in this themes JavaScript, css, psd, images, HTML also have in this themes 2 premium designs, 2 additional widgets, wpml translation ready, SEO optimized and more. all major browser are supported as e8, ie9, chrome, Firefox, safari, opera and it will runs on WordPress 3.5.This themes price is $49.
Smartreviwer is a clean, flexible, and fully responsive wordpress theme for creating product reviews. You just add products in different categories and add the affiliate links to the product in different shops. If a user buys an item after clicking your review link, you will get a comission. The theme has two types of ratings – a rating that you set with a review or the avarage user rating that lets users leave comments. It is the easiest review theme on the market. Also you will receive free lifetime upgrades.
Smartreviwer has a good documentation.