Views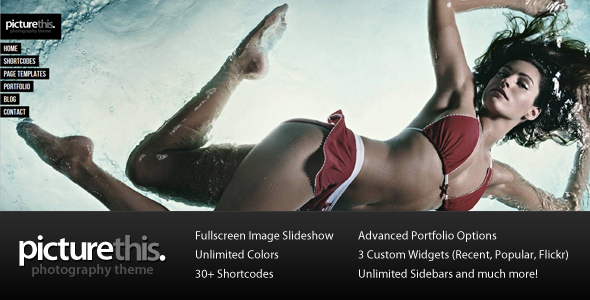 Total Download: 79/4239
Theme Features
PictureThis Details:
PictureThis is a powerful, premium WordPress theme great for photography and portfolio websites but can also be used for other projects.
Version 1.0.2 – April 14th, 2011
* Fixed search bug & styling for search widget
* Fixed blog pagination
All Theme Features:
* Fullscreen Background Image Slideshow (Upload unlimited images for each page/post/portfolio item)
* Custom Background Image(s) for every page/post/portfolio item
* Choose Your Own Colors With Color Picker
o Navigation Links Colors/Drop Down Menu Colors
o Logo Color
o Text color, link color, headings color (h1, h2, h3)
o Much more..
* Slideshow Options
o Slideshow On/Off
o Display images randomly or in order
o Slide effect (fade, slide right, slide left, slide top and more)
o Slide Interval Time
o Slide Transition Time
o Pause On Hover On/Off (pauses slideshow when user hovers image if set to on)
o Image Protect On/Off (disable right clicks and image dragging)
o Keyboard Nav On/Off (use keys to navigate through images)
o Set slideshow performance options
* Lightbox Options
o Easily Change Lightbox Theme From Within Admin Panel
o Lightbox Gallery (go through images through lightbox by clicking arrows/thumbnaills)
o Allow/Dissallow Image Resize
o Show/Hide Lightbox Title
o Change Opacity
o Default Image Width
o Default Image Height
* Advanced Portfolio Options
o Custom Post Type for Portfolio
o 2, 3, 4 and 5 Column Layouts
o Unlimited Portfolio Categories/Pages
o Choose to open lightbox or link to page/custom URL on a per-post basis.
o Enter lightbox title and description
o Lightbox Photo Gallery Option
o Use image slider/stacked photos for single portfolio page
o Video Support
* Blog Options/Settings
o Choose Colors For Blog Titles
o Fullwidth Blog Template + Float Left Thumbnail Template
o Show excerpt/full post
o Show/hide "Read More" button
o Enter custom text for "Read More" button
* Font Settings
o Choose font family for text
o Change font sizes for text, header items and more
* 30+ Shortcodes (Buttons, Columns, etc)
* 3 Custom Widgets (Recent Posts, Popular Posts, Flickr)
* Unlimited Sidebars
* Compatible on all major browsers
* Threaded Comments
* Google Analytics
* PSDs Included for easy editing
Originally posted 2011-05-28 11:12:40.
Latest Themes: