Views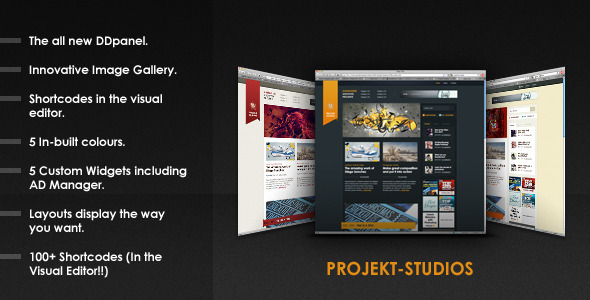 Total Download: 25/1582
Theme Features
Projekt-Studios Details:
Projekt-Studios is the perfect solution for those looking for not only a personal blog but a blog that will constantly be updates and capable of having a lot of content due to its compact way to organize information.
Theme by Guilherme Salum
– This Theme is ready for localization.
Projekt-Studios Includes:
* The All new DDPanel 2.0
* 100+ Shortcodes inbuilt in the visual and HTML editor.
* Projekts Gallery to display anything you'd like in a innovative way
* Totally flexible Layout
* 5 Custom Widgets
* Custom Metaboxes direct in your post panel
* 5 Different Colors
Originally posted 2011-05-04 11:56:04.
Latest Themes: