Views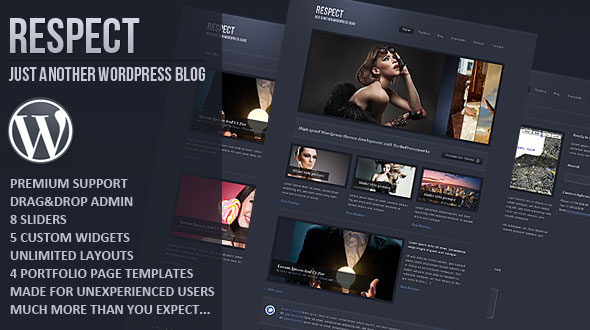 Total Download: 9/445
Theme Features
Respect pro Theme Details:
Respect pro is easy to use WordPress theme packed up with huge set of features, intuitive admin interface and robust Turbo framework for wordpress. The backend enables any unexperienced user create sophisticated WordPress website within half an hour and without a single line of code! Great set of shortcodes help to plug video, contact forms, Google maps and other interactive content seamlessly.
Complete List of Features Included
Respect pro comes with fantastic WYSIWYG page composer and the following list of features:
* Shortcodes Assistant(helps to insert interactive content and style texts)
* Advanced TurboEditor page composer
* 8 jQuery sliders
* Tooltips, Styled lists, User boxes, Quotes, and other text styling tools
* 5 Custom Widgets
* 4 Custom post types(Portfolio, Services, Works, Testimonials)
* Twitter Shortcode and Widget
* Flickr Photostream
# 6 Page Templates
# PHP contact form with AJAX validation
# Layered PSD included
# Compliant in all major browsers
# Well documented!
before bying the theme check video guid
…and see that it's really easy and fun to ceate wordpress pages using powerful tools of TurboEditor!
Lifetime Support + Free Updates!
The screenshot of the admin panel gives an idea of what you get. Need more details? Ask me through my profile 🙂