Views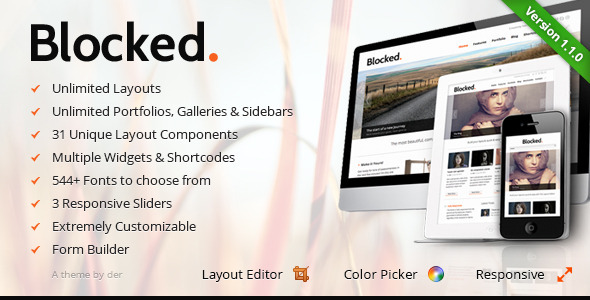 Total Download: 0/22
Theme Features
Blocked Business Details:
» Blocked 1.1.1 is available.
» Demo Content XML available in the theme package.
» Video Walkthrough included in the documentation.
» Compatible with WordPress 3.8.x
Blocked is a Responsive WordPress theme, built with extreme attention to details.
Featuring the Layout Editor, an extremely useful tool that helps you build any layout you can imagine.
The Layout Editor serves as a visual configuration tool to shortcode interfaces. So, instead of providing tons of shortcodes, Blocked provides Layout Components, which are configurable design elements that add specific content into any area of your site.
You have tons of options at your disposal. Each Layout Component has several options to be configured, unique to each component. You can add as many components as you want.
Using the Layout Editor, you can create Layouts and reuse them, using the Layout in Layout feature. Include parts of a layout in different places. One change updates multiple layouts at the same time!
Additionally, using the Duplicate Current Layout feature, you can create a copy of your current Layout, and make individual edits to all copies!
There's a lot to be expected, this is the result of 4 full months from Design to Development and Testing.
What's New?
Nested Layouts: ability to insert one layout inside another
Duplicate Layouts: make copies of existing layouts to save lots of time
Featured Sliders: all sliders now support content from galleries, posts & portfolio posts
Server Diagnostics: the theme notifies if there's anything wrong and tells you how to fix it.
Download Updates: set your purchase details and download updates from your admin.
Better RSS Feeds: displays featured image & post multimedia on rss feed.
Video Walkthrough: complete tutorial video in the documentation.
Features
Unlimited Layouts
Unlimited Sidebars
Unlimited Portfolios & Galleries
30 Unique Layout Components
532 Fonts to choose from
3 Responsive Sliders: Blocked Unique, RefineSlide, NivoSlider
Form Builder, build any form you can imagine
Flexible Typography
Color Picker for all Design Elements
WordPress Multisite Ready
Multiple Widgets & Shortcodes
State of the Art Theme Options
Typography Manager, download new fonts when they're available!
Multi Language Ready, Use the theme in multiple languages
Built-in Translator, the theme handles .po files for you
Multiple Blog Templates
Built-In Gallery Manager
Multiple Post Types: Gallery, Portfolio, Icons, Pricing, Staff
Multiple Widgets: Advertising, Flickr Gallery, Google Maps, Latest Posts, PHP Code, Quick Shortcode
Editor Styles reflect published content
Responsive Video embed on Posts
Pricing Boxes, Staff Display, Toggles, Accordions, Tabs, Notifications, Testimonials, Blockquotes
List Style icons
Google Maps (featuring a full screen map)
Elegantly Customized Lightbox
Audio Player for posts with audio attached
Graceful Degradation when JavaScript disabled
Update Manager, be notified on updates
Extremely Detailed Documentation
PSD Files Included
Professional Support on a friendly Support Forum with 1000+ Users
Check out the Live Preview, you'll be surprised!
Designed & Developed with Dedication & Professionalism by derDesign.
Photos from Robert Hamilton used under the Creative Commons License.
Video Walkthrough
A complete Video Walkthrough is included, covering the following topics:
Theme Installation
Installing Sample Content
Publishing Content
Theme Options
Layout Editor
Mobile Device Preview
Go to bit.ly/blocked-wp
Or, scan the following QR Code:
Layout Editor
Quickly & Easily add any layout into your site, using the Layout Components provided by the theme. Creating awesome websites has never been easier!
You can export your layouts to a file, right from the theme's admin and then re-import, to backup existing layouts and import later on a live site.
Nested Layouts
This feature is just brillliant, introduced in version 1.0.5: Blocked provides the Layout in Layout component, which allows you to insert the contents of a Layout inside of another Layout. Same concept of Inception, but applied to Layouts!
Duplicate Layouts
Yet another awesome feature: The ability to duplicate existing layouts. This is very useful when your layouts share a similar structure across pages. This one's a real time saver!
Layout Components
You have 30 Layout components ready to be added into your site. You can define exactly how you want your site & your content to look like!
Color Picker
You have lots and lots of color choices, which is perfect to adapt your site to your Company's Branding. Backgrounds can be changed for 3 locations: Header, Content & Footer.
Gallery Manager
Visually add & rearrange images to display in the several different sliders provided by the theme, supporting thumbnails of your uploaded images, and allowing the ability to specify the cropping position for each image.
Typography Options
Google Webfonts has been integrated right into the theme's admin, allowing you to choose from an outstanding list of 532 fonts (currently available in the fonts repository). You can update the fonts list right from the theme's admin, to get new fonts from Google.
Widgets
Blocked provides multiple widgets to choose from: Advertising, Flickr Galleries, Google Maps, Latest Posts, Quick Shortcode & PHP Code. All of them with lots of configurable options & ready to use.
Mobile Behaviors
Mobile Behaviors is an algorithm built into Blocked that allows your columns to behave as you tell them to, in mobile device resolutions.
Form Builder
With Blocked, you're not limited to just one contact form, you can have as many as you need. Each contact form you create using the Form Builder has built-in validation. This is perfect to gather data from your site!
Additionally, all forms you create, send data to the server asynchronously using AJAX, and displaying a notification to the user after the message has been sent.
Social Icons
Adding icons to your site is a piece of cake! Add them from a list of 153 social icons and rearrange them using drag & drop. Very easy to setup.
Native Image Updater
Image resizing operations use the WordPress internal image manipulation functions. Blocked features a smart cropping algoritm (positional cropping) which allows you to choose exactly from where are your images cropped.
Translation Editor
The theme uses the standard localization format of .mo/.po files for its translation. Usually, you need to edit these files on your computer and then upload. Blocked provides a translation interface, in which you can edit these files right on your server, changes take effect immediately.
WordPress Multisite Ready
The theme has been designed with WordPress multisite in mind. All of derDesign themes run on WordPress Multisite. Blocked's live preview is itself running on it. Rest assured, the theme will adapt to a multisite environment without any trouble at all, it just works!
Multiple Blog Layouts
You are not limited to a single blog design for your site. You have three different designs which you can use, all responsive.
Multiple Responsive Sliders
All sliders in blocked are responsive, and there's each one for your taste. For a full width pleasure, there is Blocked's Default slider, built from scratch to be used exclusively with the theme. There's also NivoSlider and RefineSlide. All of them will make your photos shine!
Elegantly Customized Lightbox
The PrettyPhoto lightbox has been customized to reflect the theme's style, making it stand out from all the sites that use an unmodified version. Feel yourself unique.
Shortcodes
There's shortcodes for everybody. You have several and very useful shortcodes ready to be used, some of them interact directly with your layout when publishing content, some of them are UI Elements, such as Toggles, Accordions & Tabs.
Responsive Video & Audio Embedding
That's right. Posts can take a Multimedia parameter, which allows them to display both Video & Audio on your site. The theme automatically embeds the video (which is responsive) and adds an Audio Player to your site to preview your music.
Testimonials
AMAZING ! Just amazing. Incredibly well thought out and useful, along with support that is top shelf. Thank you so much for creating this. I cannot speak highly enough to do this justice. Five stars.

– southernmost
WOW ! "Really I can do that". "Oh, it's on now". "I'm using this for my own site". "This is brilliant". "Theme is underpriced". My words exactly while doing the two-step.

I have fumbled around with quite a few WP themes, so it was truly a surprise to see all of what this theme is capable of compared to most WP themes.

Backend is awesome and intelligent; theme is elegant and beautiful". No need for fussy CSS /HTML/PHP editing for a customized look, unless you need something exclusive.

XML import is easy and quick when you follow the directions, and if you have to do it a second time it's a breeze because then it makes sense.

Backend can appear intimidating initially until you explore the features. No contact with support yet, so no comments. Meaning, the theme is easy to navigate AND set-up once you get started.

Brilliant Work – Beautiful Theme!!! FIVE STARS

– ghargro11
This is an excellent theme, I'm very happy with it! I am not very web design savvy and this has been quite user friendly for me. And where I've needed additional help, Ernie has provided awesome support! Thanks– caerickson
To anyone considering purchasing this theme: In the words of Nike, "Just Do It!" Blocked is really amazing!– hotshoediaries
Ernie, I am totally impressed and LOVE this theme!!!!! You have clearly put a lot of work into this. I've been able to upload various plug-ins without any problems and to create my site with ease. I'm giving you a five!!!! Plus, with my minor questions you were so quick to respond. Hope you do great with this and looking forward to keeping an eye on all of your future work.

– DeeJaeb
Thoroughly impressed with Blocked. We've been searching for a well-constructed and simple theme to upgrade/redesign our existing site. Not only are we thrilled with the elegance, beauty and freedom of the design, but we are equally blown-away of the owner/seller's customer service. Fast, responsive and easy guidance, they put the customer first – providing intuitive technical help upon purchase and beyond.

Buying a great looking theme is one thing, having the attached product support and follow through is another added boost of confidence, reminding you that you made the right decision.

By it's intuitive construction and seamless integration, it's just plain fun to explore the theme's capabilities. We look forward to unveiling our new site to our customers.

This is our first experience in buying products through ThemeForest. The seller alone has made a long-lasting positive impression, that will repeat in business. Thank you Der and the creators of Blocked.

– bdempsey
I just want to thank Ernie / Der for the truly inspirational work!

It is not often a theme impresses me and the level of customisation here is truly amazing. Things like the ability to change the sidebar width or css gradients in the headers. This framework is the future of wordpress and I'm sure Ernie will keep improving it.

The service has been wonderful too with Ernie giving his all to satisfy myself and others.

Cheers

– soulnecta
Ernie provides excellent and timely support for the Blocked theme.

The level of support that he provides to his customers is reason enough to buy his themes. On top of that, Blocked is an elegant and versatile theme.

A great theme with great support. Can't ask for more than that!!

– marbran
Changelog
1.1.1 (10/25/2013)
– Several Layout Editor fixes & improvements

1.1.0 (09/09/2013)
– Layout Editor fixes & improvements
– Fix embed output in Content Component
– Prevent layouts from rendering on password protected posts/pages
– Add youtu.be to responsive videos
– Update RefineSlider version
– Fix active page on mobile menu
– Fix search box animation

1.0.99 (06/28/2013) [stable]
– Implement native image processing function
– Mail Template template and functionality fixes
– Minor fixes and refactoring
– Fixed styling issue with email template (1.0.91)
– Fixed Image Upload issue (1.0.91)
– Fixed php issue with func_get_args (1.0.91)
– Added "PHP Code (no output)" component (1.0.92)
– Minor fixes for WP 3.4.x and below (1.0.92)
– Better path detection for image resizing script (1.0.93)
– Better support for WordPress subdirectory installs (1.0.94)
– Better server compatibility for mailer script (1.0.95)
– Stability fixes for Layout Editor (1.0.95)
– Fixed some issues that occurred when saving options and layouts (1.0.95)
– Internal refactoring to excerpt and content generation (1.0.95)
– Stability fixes for the color editor (1.0.95)
– Form placeholder fixes on IE (1.0.95)
– Fix layout editor save issue on certain situations (1.0.95-1)
– Add UTF8 encoding support to gallery manager (1.0.95-1)
– Minor fixes for image cropping (1.0.96)
– Fix broken twitter feed, due to Twitter API changes (1.0.97)
– Minor fixes to twitter feed (1.0.98)
– Now using Twitter API v1.1 (1.0.99)

1.0.8 (09/03/2012)
– Add Ability to change breadcrumb home label
– Add audioplayer shortcode
– Add Portfolio Gallery source to sliders
– Add custom query string support to Blog Posts component
– Add missing translation strings
– Add asset mode option: you can now serve minified/raw css/js
– Add workaround for wpCookies wordpress bug
– Add extra social icons: phone, email
– Add excerpt & button to posts scroller component
– Add auto lightbox gallery for images in post content
– Many CSS Fixes & Improvements
– Typography Fixes & Improvements
– Fix autoplay on portfolio slider galleries
– Fix gallery manager bug with quoted strings
– Fix layout editor bug failing to save on certain situations
– Enable/Disable lightbox on post display & portfolio galleries
– Fixed theme options textarea issue on IE
– Better link insertion for icon posts
– Usability improvements for quick shortcode component/widget
– Better support for child themes
1.0.7 (08/23/2012)
– Fixed issue with automatic lightbox assignment
– Add missing theme translations (1.0.71)
– Updated documentation & added video walkthrough (1.0.71)
– Improved Layout Editor logic (1.0.71)
– Add GD / MCrypt library diagnostic messages (1.0.71)
– Better support for servers with strong security policies (1.0.71)
– Add Page Content component (1.0.71)
– Minor CSS Fixes (1.0.71)
1.0.6 (08/19/2012)
– Fixed issue with thumbnails on multisite environments
– Fixed issue with Icon Post URLs
– WordPress Multisite data now included in sample content
– Updated sample content to reflect live preview changes
– Add featured image & post audio/video to RSS feed
– Minor CSS Fixes & Improvements
– Updated sample content data (1.0.61)
– Update Google Webfonts, now with 539 fonts (1.0.61)
– Fixed issue with gallery interface on Firefox (1.0.61)
– Minor CSS Fixes & Improvements (1.0.61)
– Add Category to breadcrumbs (1.0.62)
– Footer widgets enabled by default (1.0.62)
– Set max-width restriction on logo image (1.0.62)
– Fix archive pages layout priority (1.0.62)
– Fix PHP Code component not rendering container (1.0.63)
1.0.5 (08/14/2012)
– Added Nested Layouts feature (Layout in Layout component)
– Fixed error when importing Layout Data
– Added "Duplicate Current Layout" Feature on Layout Editor (1.0.51)
– Added Responsiveness to the Content component (1.0.51)
– Fixed issue that prevented post meta from saving on some servers (1.0.51)
– Fixed issue with admin gallery thumbnails on IE (1.0.52)
– Added automatic lightbox to post images in content (1.0.52)
– Download theme updates from admin. Configure on maintenance section (1.0.53)
– Fixed issue with footer copyright escaping html (1.0.53)
– Increased theme compatibility on sites with security configurations (1.0.54)
1.0.4 (08/09/2012)
– Fixes issue that prevented contact forms from sending messages properly
– Remove unicode characters from Custom CSS code on theme options
1.0.3 (08/08/2012)
– New Layout Editor save format (compressed)
– Include site name on Layout Export file
– Many server compatibility fixes
– Minor CSS Adjustments
– Logo can now be Centered
– Sliders now accept Featured Posts, Portfolio Posts & Galleries
– Theme Diagnostics, warn user if server has issues
– Updated demo content README & import data
– Add AJAX progress notification on Theme Options
– Fix issue with Color Editor not saving changes
– Fix background images issue
1.0.2 (08/03/2012)
– Fix theme compatibility with WP 3.2 & 3.3
– Add Sample Content XML to the theme's download package
1.0.1 (08/01/2012)
– Fix issue with comments not rendering pingbacks properly
– Fix menu on Android < 3.0
– Update translations
1.0.0 (08/01/2012)
– Fixed JavaScript issue on IE8, removed incompatible PHP function