Views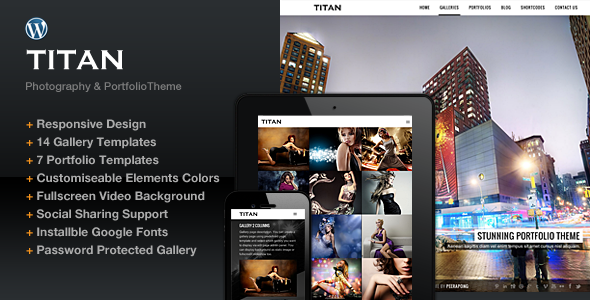 Total Download: 0/99
Theme Features
Titan Portfolio Photography Theme Details:
Our Review: Titan is a responsive premium WordPress Multipurpose Theme. The theme has been developed by peerapong. There are multiple theme options and feature like change the layout, style, colors, and fonts and much more. The theme is perfect for Portfolio Photography websites. The theme is ready to use with the latest version of WordPress 3.5.
This Theme Price Is Only $45 USD
Features
Responsive Design
8 Homepage Gallery Options
Static Content Homepage Support
14 Gallery Templates
8 Portfolio Templates
Filterable Portfolios Content
Customisable Elements Colors
Full Screen slideshow for Photo Gallery
You can configure own skins using Skin Manager
Music support for homepage and pages
Password Protected Gallery Support
Image Gallery Comments Support
Fullscreen Youtube and Vimeo video support
Extensive galleries admin. Support multiple images upload
Portfolio content support Static Page Content, Youtube, Vimeo, Self-Hosted Video and Custom link
Social media Profiles Support
Installable Google Web Fonts
CSS and javascript compression support
Easily customize elements colors using color picker
Styled typography and flexible page columns
Built-in Many Shortcodes
Style shortcodes ex. dropcap etc.
Column shortcodes ex. 2, 3, 4, 5, 6 columns
Built-in Shortcode Generator plugin
Custom Post Type support for Galleries, Portfolios
WordPress custom menu support
Facebook, Twitter and Google+ integration
Unlimited sidebar. Create and select sidebar for each of your page!
Contact us page with validation and fullscreen Google Map support
Image Assets
Some of images use in demo site for PREVIEW purpose only.
'The Union', United States, New York, New York City, Union Square by Christopher Schoenbohm http://www.flickr.com/photos/44028103@N07/5342548089
Sailing Away to Akaroa by Trey Ratcliff http://www.flickr.com/photos/95572727@N00/6888525059
Oasis Concert Stage @ I Am A Walrus by Anirudh Koul http://www.flickr.com/photos/84856173@N00/2841482484
Other than these are purchased from ShutterStock