Views
Total Download: 0/70
Theme Features
Varnish Details:
Varnish is quite possibly the most customizable WordPress theme on the planet. Choose one of the 23 bundled colour schemes, or create your own – all from WP-Admin! This theme is geared towards the blogger who likes to share their life and themselves with the world.
See it in Action!
Check out this video demo to see just how easy it is to customize the look and feel of Varnish.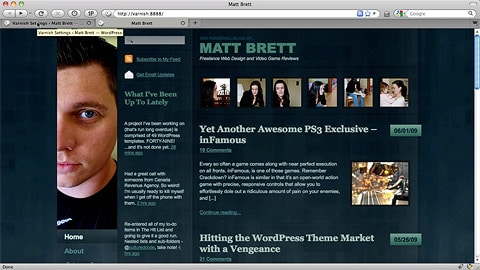 Main Features
WordPress menu for the main navigation.
Standard featured images (post thumbnails), with fall-back custom field method for images.
Awesome colour scheme editor, with 23 beautiful schemes to choose from.
Unique 3 column layout with a focus on you and your online activities.
Flexible photo area supports an image of any height. No need to resize, as the overflow is hidden automatically.
Custom built theme settings panel within WP-Admin that allows you to customize the theme without editing any templates.
Both sidebars are widgetized.
Custom widgets for the 3 main ad spots (4 125×125 buttons, 120×600 skyscraper, 160×600 skyscraper). 300×250 big box and 468×60 banner also supported.
Super lean markup and CSS , makes advanced customization a pleasure.
Tested on Windows and Mac. Looks great in all modern browsers. Some details are toned down for older versions of IE, but nothing is broken.
Support for Twitter Tools, FlickrRSS, WP-PageNavi, and Subscribe to Comments plugins out of the box.
Original PSD included!
Version 1.4.5 – Released: 08/04/2011
Added meta tag which forces Internet Explorer to run in standards mode. Ironically, this breaks HTML validation.
Added Google+ icon to social profiles.
Moved Theme Settings panel under Appearance, so it's accessible from the Themes page along with Menus and Widgets.
Updated bundled TimThumb to version 1.34.
Support & Feature Requests
First – read the help documentation that came bundled with the theme. It is also available on the theme's live preview site.
Please send me a direct message via ThemeForest if you're having trouble with your theme, and I will do my best to get back to you as soon as possible. Please be patient, as I work freelance full time and do not have dedicated time for theme support. I will not answer support requests left as comments here.
Also, it would be a good idea to a read through my Terms of Support document, which outlines the extent of support I offer, and information regarding updates, warranty, and compatibility.