Views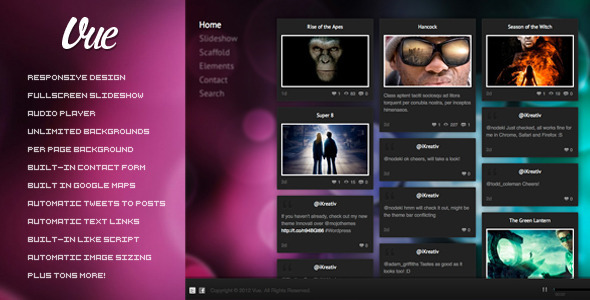 Total Download: 7/417
Theme Features
Vue Responsive WP Theme Details:
This Theme Price Is Only $35 USD
Blog Description:
Vue is a super-awesome Premium WordPress Theme with oodles of features.
Vue comes packed with an easy-to-use un-branded Options Panel and great documentation.
Ever wanted to create an inpiration gallery like Creattica? Or maybe a freebie site? Or even a portfolio, this theme can do them all!
Features Include:
* Responsive design
* Fullscreen slideshow
* MP3 Audio player
* Unlimited backgrounds. Choose from the built-in ones or upload your own.
* Per page backgrounds, just set a featured image on a page and it'll be set as the background!
* Built-in ajax contact form
* Built in Google maps
* Automatic Tweets to Posts
* Automatic text links
* Built-in Like script
* Automatic image sizing
* Custom Typography Options
* Every Google font
* Related Posts
* Social Integration
* WordPress 3 menu compatible
* Lots of built-in WordPress shortcodes for easy styling
* Google analytics
* Search engine optimization settings built-in
plus tons more!
RESPONSIVE
This theme is responsive down to iPad/Tablet, great for all the new fangled technology!
AUDIO PLAYER
Adding some ambience is easy with the built-in audio player, simply upload an .mp3 file and your good to go!
FULLSCREEN SLIDESHOW
Show off your images, fullscreen for maximum impact!
TWEETS TO POSTS
Like to be social? Want to keep your blog fresh? The built-in Tweets to Posts feature is the way to go, just set it and forget it, the theme will automatically grab your tweets and create a new post from them! Awesome!
NOTE : Don't forget, if you like the theme, rate it via your downloads!
CHANGELOG
* v1.1 13/01/2011: Added the ability to add audio players per post/page with shortcode. Usage: "http://yoursite.com/path-to-file.mp3"
* v1.2 14/01/2011: Removed default Home link and tweaked some CSS