Views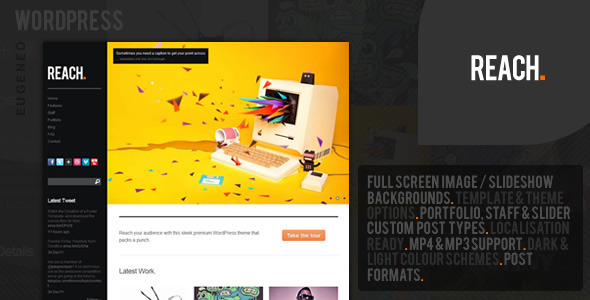 Total Download: 5/1106
Theme Features
Reach WordPress Theme Details:
This Theme Price Is Only $35 USD
Blog Description:
Reach is a business portfolio / showcase WordPress theme that offers clean styling with easy use and flexible layouts though shortcodes and template options.
Getting Support
If you encounter a bug in the theme or have any pre purchase questions you can get support by posting your issue or question on the item's comments page. When posting responses to your original post please use the "reply" button on your original post so your conversation is threaded. This makes it easier to follow.
Features
* Dark & Light colour schemes selectable in the theme options
* Background options
o Fullscreen image
o Fullscreen slideshow
o WordPress custom background
* Post formats (standard, audio, gallery, link, quote, status, video)(
* Plenty of shortcodes including video, audio, pricing tables and columns.
* Unlimited portfolios with jQuery filtering
o Display image galleries, mp4 videos, youtube video, vimeo videos, dailymotion videos, mp3s or any other embedded media such as a Sound Cloud player.
* Staff page template
* Theme options and flexible template options
* Translation ready
* Custom widgets.
o Twitter
o Contact details
* Well documented (3,000+ words)
* Unlimited sidebar generator
* Unlimited sliders which can be added to the to of any page
* Fast support via ThemeForest item discussion page
* WP3 .0 custom menus
* Live preview dummy content XML included.
Fullscreen Backgrounds
A unique fullscreen image or slideshow of images can be set as the background for any page or post.
Reach makes using shortcodes to style your content super simple. The theme includes shortcode buttons not only on the visual content editor but also the HTML editor. That means there is now no need to remember all those shortcodes and their options or to look through documentation every time you need to use one. You won't even need to switch between the two editors to use them.
Shortcodes Demo
Post Formats
Reach includes seven post formats letting you apply specific layouts to your blog posts depending on their content. Post formats include audio, gallery, link, quotes, standard, status and video.
Portfolios
Display your work, photographs or products in an easily manageable and attractive way. The theme includes a portfolio custom post type with the ability to create an unlimited number of portfolios, a portfolio grid page template with pagination and jQuery filters, and a portfolio shortcode that allows you to output your work in a one, two or three column layout.
Portfolio Demo
Staff Pages
The Profiles custom post type can be used to make a staff page. It can easily be adapted for other uses such as a sports team roster, cast list or faculty alumni to name a few.
Staff Page Demo
Theme Options
Configure your website in minutes with the built in, unbranded, theme and template options.
Localization ready
Includes a full .mo and .po file so you can translate the theme to your language.
Updates
Version 1.4 – 17 January 2012
* Added facebook opengraph meta tags
* Removed option to have slideshow as default background. Slideshow background is still possible on specific pages
* Replaced play button on video player
* Fixed bug where not all staff profiles were being output on page-staff
Version 1.3 – 12 January 2012
* Centered video player (from shortcode)
* Enabled commenting on portfolio items.
* Removed TimThumb.
* Removed video poster option. Video player on video format posts and portfolio items now use featured image as poster image.
* Fixed button shortcode TinyMCE button margin attribute error.
* Cleaned up quicktags output.
Version 1.2 – 10 January 2012
* Fix for slider captions not displaying.
Version 1.1 – 09 January 2012
* Convert to new dynamic CSS function.
* Added traditional blog, archive and search results layout. Each can be selected in the Appearance tab of the theme options.
* Added embed option for portfolio item so that any media can be added to a portfolio item.
* Add missing translatable text strings to .po/.mo.
* [portfolio], [postlist] and [pagelist] shortcodes now output all results by default. Number of results to display can still be set using the "number" shortcode parameter.
Version 1.0 – 04 January 2012
* Initial release.