Views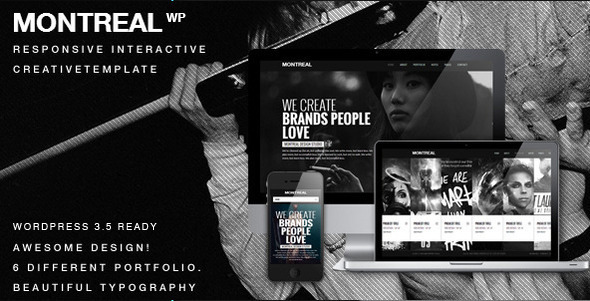 Total Download: 0/48
Theme Features
Montreal Interactive Details:
Montreal is a unique modern interactive creative WordPress Theme, perfect for creative single portfolios or creative agencies. It offers fullscreen slideshow, parallax homepage scrolling 6 different portfolio versions 3 different portfolio single items, awesome blog layout, a fully working project planner a contact form and much more…
HTML Version by Hasan Ali
Drupal Version by Refaktor
Features
BUILT IN WP 3.5
UNLIMITED PORTFOLIOS – WITH 1 CLICK FILTERING FROM YOUR WP EDITOR
SIMPLE, 1-CLICK COLOUR CHANGES
CUSTOM LOGO UPLOAD
CUSTOM FAVICON UPLOAD
GOOGLE ANALYTICS INTEGRATION
INTERACTIVE
6 DIFFERENT PORTFOLIOS
FULLSCREEN SLIDESHOW
PARALLAX HOMEPAGE
15+ PAGE TEMPLATES
CUSTOM BACKGROUNDS
WORKING CONTACT FORM
VARIOUS PORTFOLIO AND BLOG TEMPLATES.
LOTS OF SHORTCODES
FULLY WORKING PROJECT PLANNER
PRETTYPHOTO
FLEXISLIDER
SUPERSIZED SLIDESHOW
UNIQUE CLEAN AND MODERN
GOOGLE MAPS
BEAUTIFUL UI
AND MUCH MORE
HELP FILE INCLUDED
5 STAR RATED SUPPORT
Page Templates
HOME
ABOUT
PORTFOLIO BASIC
PORTFOLIO DRAG
PORTFOLIO STRIPE
PORTFOLIO GRID BLACK
PORTFOLIO GRID WHITE
PORTFOLIO GRID BLOCK
ITEM BASIC
ITEM FULL
ITEM WIDE
BLOG
BLOG LIST
BLOG SINGLE
THANKS
FEATURES
PROJECT PLANNER
CONTACT
Please rate the template if you like it.





Credits
JQUERY KINECT
SELECTNAV
GMAPS PLUGIN
FLEXISLIDER
JQUERY TWEET
SMOOTHDIVSCROLL
PRETTYPHOTO
SUPERSIZED
FONT AWESOME
Updates & Support
The updates in Montreal are automatic and appear as a notification on your dashboard just like updating a plugin.
If you purchase this template please dont forget to rate it. All code is clean commented and there is a help file in the download package. If you still need help, Please feel free to contact me.
IMAGES
You ofcourse dont get any images with the template. Below are the sources for the images. The projects are courtesy of envato marketplace and antoine http://omegear.be
81/365 All is calm, all is bright by itdoesnthavetobebeautifulunlessitsbeautiful
210\365 by VladJanuary
Trader of the Apocalypse by David Blackwell.
IMG_6828 by Glass_House